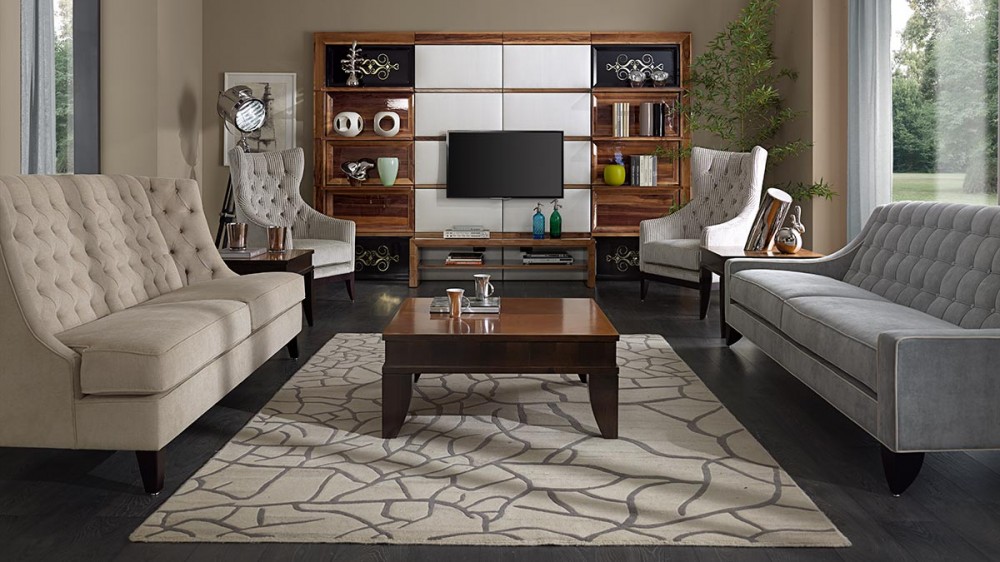 A modern living inspired to an American style
If you love the modern style, you will adore this living proposal by Sevensedie.
We have realized this ambient choosing some pieces of our collections, thinking about people who desire to furnish spaces with a touch of class. The style is near to the American design, keeping the geometric inspirations and offering an Italian reinterpretation.
What comes out is a captivating result, made of strong essential lines, enriched by luxurious details.

An ambient for who wants to identify himself very clearly.
Beauty lays in the smallest details.
Giunone and Fortuna sofas, placed opposite to each other, are the perfect union between simplicity and richness. The clean geometry is adorned by a tufted back, which reinforces the identity.
Continuity of the style is maintained with Queen armchairs.
The TV cabinet in gloss lacquered finish is refined with some exquisite brass elements.
The small tables contribute to balance the room, entering with discretion in the context.
To know all the details of this American style living space, visit the interactive zone. You could explore the products and get more information.
If you wish to request right now more information on this product, contact us and tell us your idea and desires.