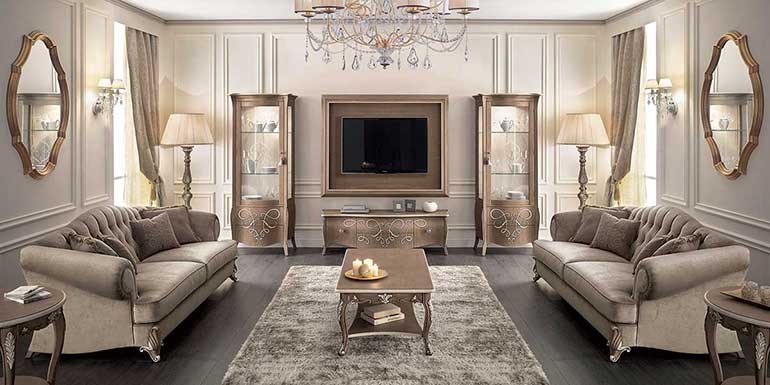 A living zone from Butterfly collection
Our Butterfly collection is a homage to the harmony of nature and to Italian art: two fundamental elements of beauty, value that Sevensedie always research.
The Butterfly range gives value to the sinuous design through the quality of the materials, inspiring to the grace of the butterflyís flight recalled in the reliefs on the Cherry woodís surface.
This living room has a strong classic taste, brightened by the oval decorated mirror which intensifies the light and enlarges the spaces.


Butterfly living area
Main characters of this living ambient are the sofa and the table at the center of room.
The first is made in beech wood and it is particularly delicate thanks to exquisite legs manually carved that suit the design of the rectangular Phyllon small table lacquered in silverís leaf.
The sinuous butterfly flight is then recalled by the display and the TV cabinet.

Care of details
Butterfly living zone is an ambient with soft lines, but enriched by precious details. The television, for example, is placed in a wall TV cabinet that frames it, adding value to an important object.
To discover in detail all the products of this Living space, visit the interactive zone: explore all the details and click on the elements of the collection to get more information.