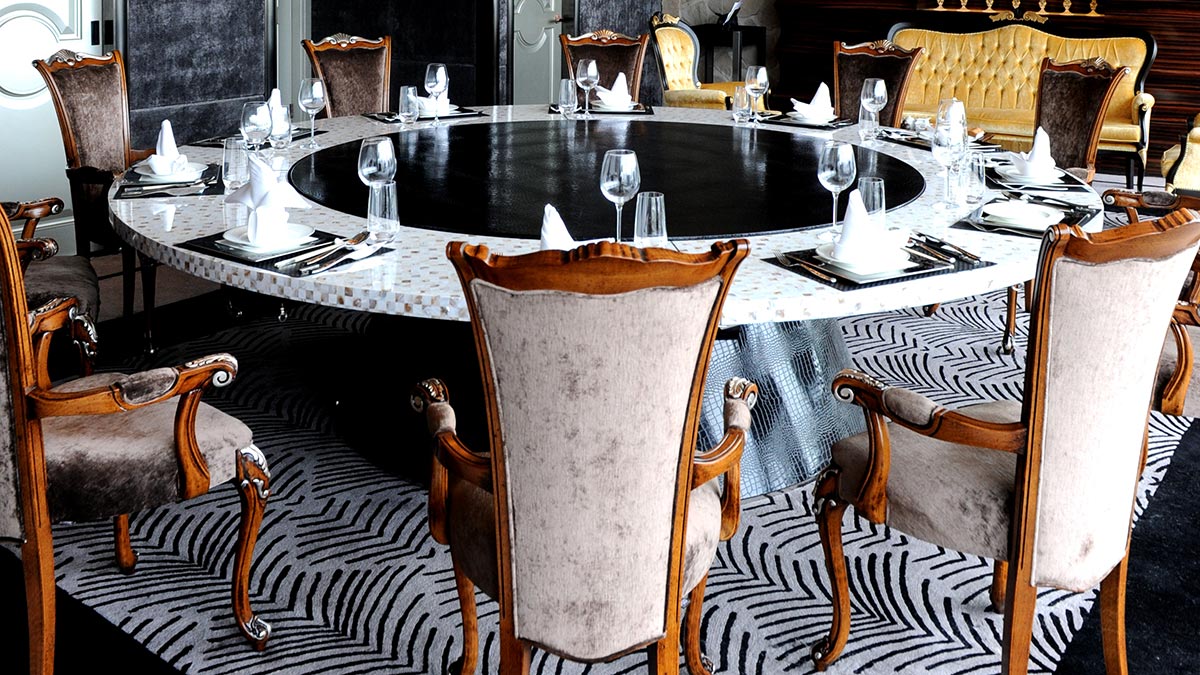 In China it is tradition to have some very large round tables, with swivel center, where guest can seat in large groups to socialize. The largest table in the imperial seal restaurant had a diameter of two and a half meters, at a table of this diameter you can seat up to ten guests.

For the tables in the classic zone of the restaurant we have used our classic chair with arms Chiara. The wood frame of this chair is very nicely carved, we polished the frame in a warm walnut finish and we highlighted the beautiful carvings with some silver leaf accents.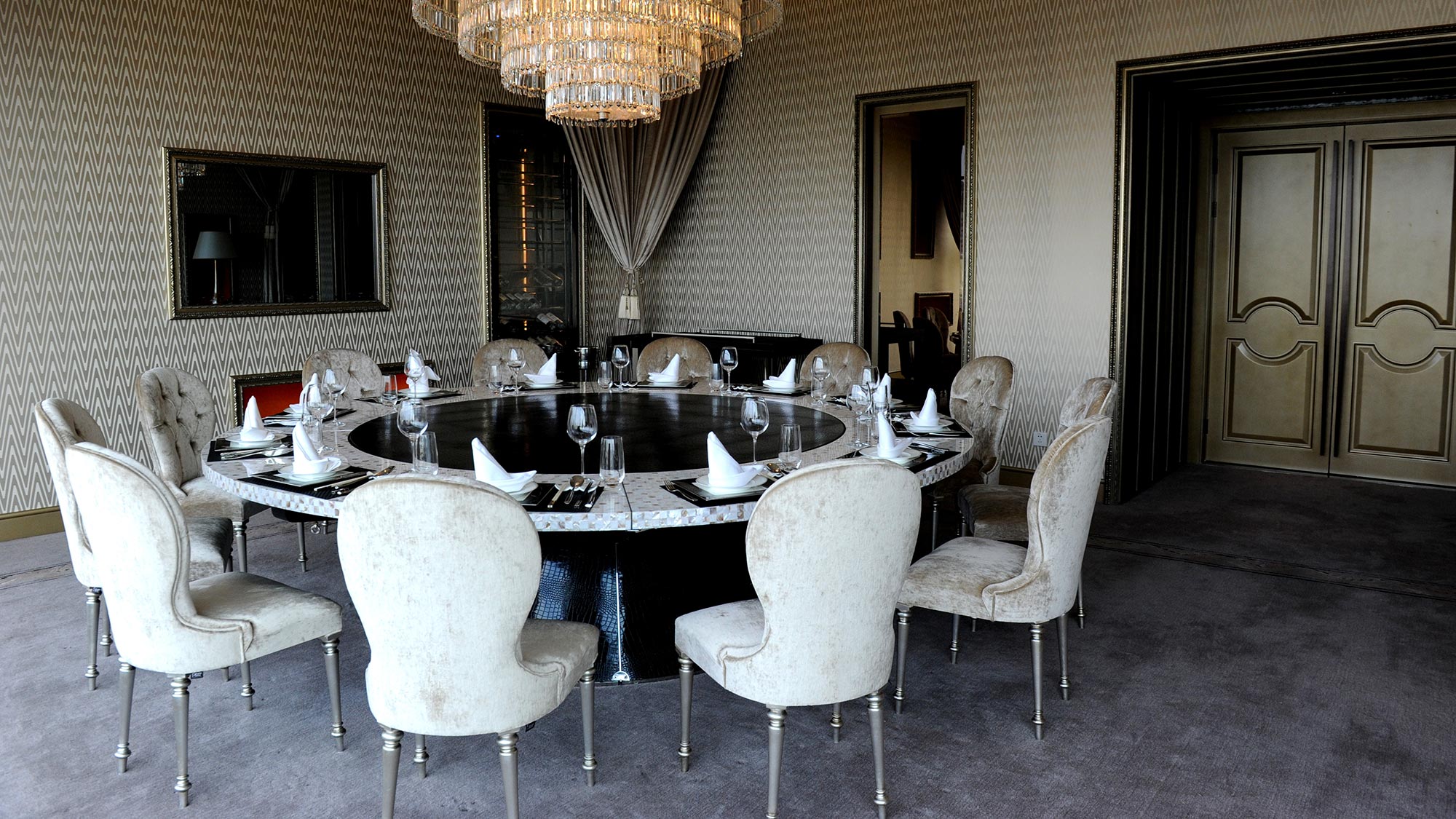 For the more modern part of the restaurant we used our contemporary Aida dining chair with tufted back, the legs of this chair was all covered in silver leaf with a transparent glossy finish.
In a private room we had an extra large round table with a diameter of three and a half meters. For this table, that could seat up to fifteen guests, we selected our transitional Ramses dining chair. We upholstered the Ramses chair with black leather on the outside back and a crushed pink velvet on the inside backrest and on the seat. This allowed us to achieve an elegant two tone effect which gave even more character to this exclusive room. The client was very well impressed with this leather restaurant chair!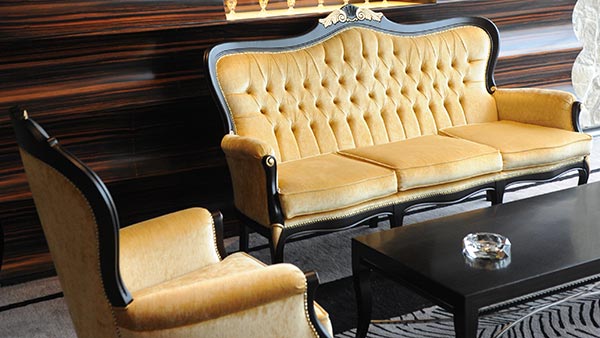 In the more secluded area we created some small settings with sofas, chaise lounges armchairs and small lamp tables and coffee tables. The Foglia 3 seater sofa and with the matching Foglia armchairs, in a gold color velvet, with tufted back and polished in black with gold leaf details.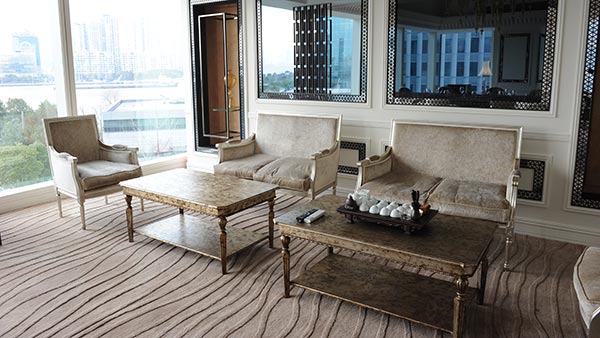 Two classic replica Luigi two seater sofa with matching Luigi armchairs polished in glossy silver leaf, combined with the rectangular Sinone coffee tables to create a unique setting with an indisputable classic Italian look.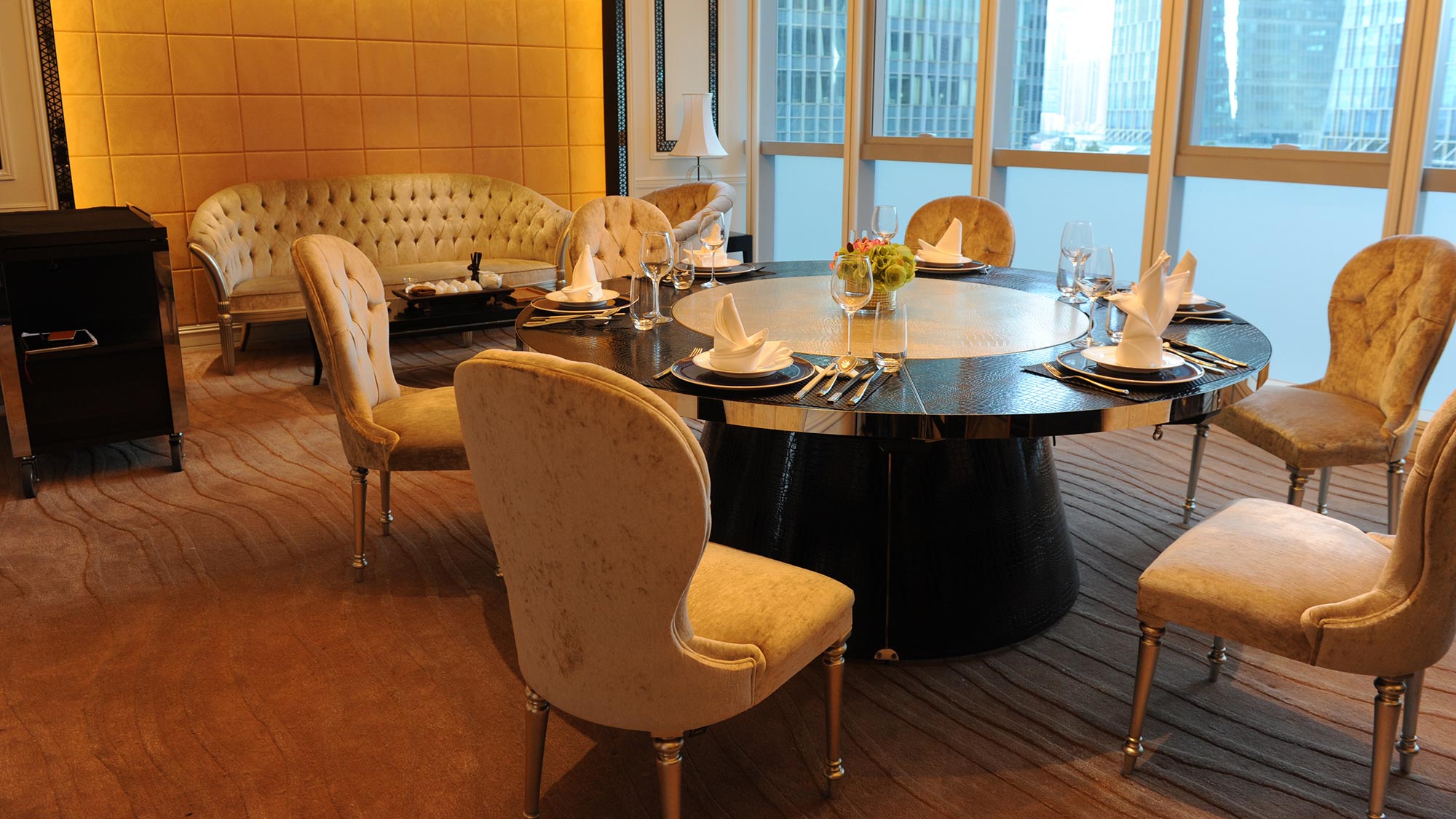 Next to the dining area a small sitting area with the Augusto 3 seater sofa and the matching Augusto armchair both linked to the beautiful Aida Italian dining chair by the same silver leaf finish, by the cream velvet upholstery and last but not least by the astonishing tufted back.
Probably the most exclusive, the cutest and the most italian looking was the setting made by the Diva chaise lounge, the Diva armchair and the Diva nursing chair, both upholstered in a very rich velvet, with tufted back and polished in silver leaf perfectly matching the finish with the two small round lamp table next to them. Many unique and high quality products by Sevensedie for one of the most luxurious and exclusive restaurant in Shanghai. The whole restaurant furniture for this project was 100% made in Italy.